Grand Open-Air Music Festival 16.7.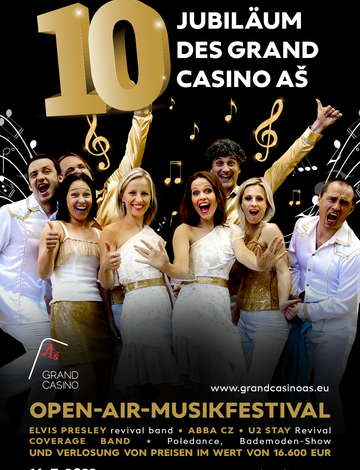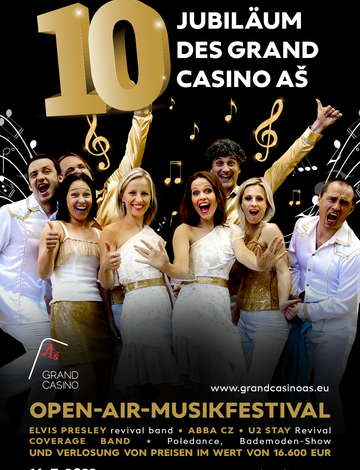 11 Grand Casino As is celebrating 10 years
Dear friends of ours, it's here! Grand Casino As is celebrating 10 years and you can be there! The third year of Grand Open-Air Music Festival in Grand Casino As is waiting for you on 16th July 2022 and you won't forget it, that's for sure. We start at 17.00 and you can look forward to properly loaded program. In addition to breathtaking revival bands like Elvis Presley, U2 and ABBA, the band Coverage will play a real gem for you. And that's not all! There'll be also bikini fashion show, pole dance performance and most importantly – a draw for prizes worth 16.600 EUR! Admission is free! Come and celebrate with us the first decade. We promise you'll enjoy it!
17:00 - Coverage Band
18:00 - Poledance-Performance
18:30 - Elvis Presley Revival Band
19:30 - Bikini Girls
20:15 - U2 Stay Revival
21:30 - 16 600 EUR Draw
23:00 - ABBA CZ
Winners of draw:
1.Sabine Schöppner
2. Alexander Seiler
3. Simone Wolf Köstler
4. Marta Wolf
5. Hannes Fäber
6. Le Mai Phong
7.Thomas Scherer
Congratulations!