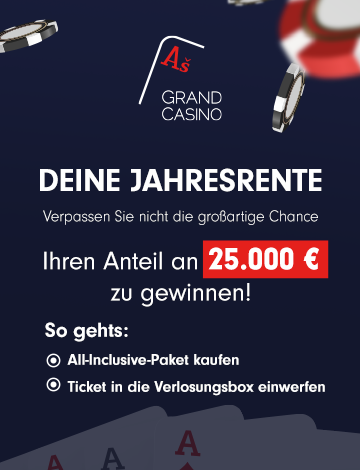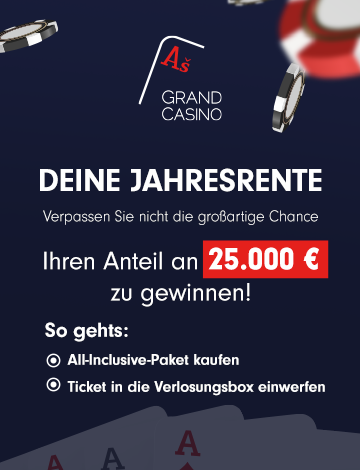 Come to us, have fun and play for € 25,000!
From 1.8. you have the possibility to take part in our competition YOUR RENT.
You can participate by purchasing an all-inclusive package where you get ruffle ticket. One ticket per one package. On the ticket write your full name and date of birth on both sides of the ticket. Throw the left side of the ticket into the raffle box in the casino and keep the right side until the raffle day.
On the day of the raffle, there are other one-off prizes in addition to the main prize (the monthly payment of a rent for a whole year).
Thrown-in tickets remain in the lottery box until the end of the last raffle. The more tickets you put in the box, the greater your chances are to winn. You can collect tickets from 1.8. until 21.11.
1) The first raffle will be for 2 x 2,400€ (200€ per month for a whole year) and 8 x 100€.
2) The second raffle will be for 1 x 6,000€ (500€ per month for a whole year) and 7x 100€.
3) The third and final raffle will be for 1 x 12,000€ (1,000€ per month for a whole year) and 7 x 100€.
Simply participate and win!
You can find more information about the competition at the reception desk or from our employees.
The dates for the raffle were canceled due to current coronavirus measures issued by the Ministry of Health. Following the repeal of these measures, new raffle dates will be set immediately.